Sad and tragic but also avoidable. Natural gas and propane fireplaces and stoves need regular maintenance and service just like wood stoves and fireplaces need sweeping. Please install CO detectors and change your CO batteries annually. 🙁
Carbon monoxide poisoning suspected in deaths of two adults in Grant County
Posted: Feb 14, 2018 6:19 PM PSTUpdated: Feb 14, 2018 6:19 PM PST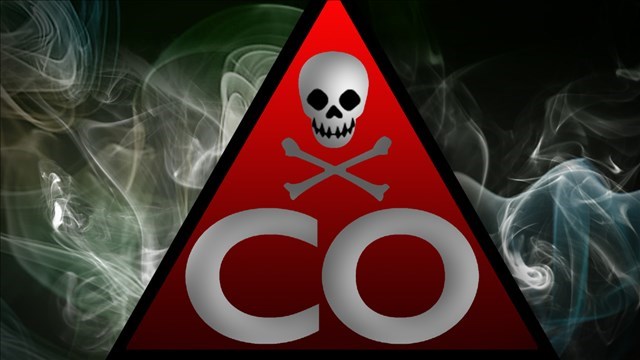 COULEE CITY, Wash. –Investigators are looking into the deaths of two Coulee City adults due to what is believed to be carbon monoxide poisoning.
Responders were called about 7 p.m. Monday to a trailer park in the 500 block of West Walnut Street in Coulee City after a landlord found the renters — a male and a female — dead inside a home. Investigators believe the two were overcome by carbon monoxide from either a propane appliance or propane heater. Foul play is not suspected.
Grant County Coroner Craig Morrison confirmed Wednesday that 68-year-old Roxy Mae Ergler and 72-year-old Kenneth W. Gomez were the two people who died.
Deaths in Grant County due to carbon monoxide poisoning have happened in the past, including an incident on November 26, 2007 in Royal City. In that incident three children died and two more were hospitalized after being overcome by carbon monoxide from a generator which was running inside their home. The generator was powering electric heaters during a power outage.
Carbon Monoxide Information and Injury Prevention:
Carbon monoxide is a colorless, odorless, tasteless gas produced by burning gas, wood, propane, charcoal or other fuel. Improperly ventilated appliances and engines, particularly in a tightly sealed or enclosed space, may allow carbon monoxide to accumulate to dangerous levels.
Carbon monoxide poisoning occurs when carbon monoxide builds up in your bloodstream. When too much carbon monoxide is in the air, your body replaces the oxygen in your red blood cells with carbon monoxide. This can lead to serious tissue damage, or even death.
If you think you or someone you're with may have carbon monoxide poisoning, get into fresh air and seek emergency medical care.
Signs and symptoms of carbon monoxide poisoning may include:
• Dull headache
• Weakness
• Dizziness
• Nausea or vomiting
• Shortness of breath
• Confusion
• Blurred vision
• Loss of consciousness
The warning signs of carbon monoxide poisoning can be subtle. But the condition is a life-threatening medical emergency. If you think you or someone you're with may have carbon monoxide poisoning, get into fresh air and seek emergency medical care.
Simple precautions can help prevent carbon monoxide poisoning:
• Install carbon monoxide detectors. Put one in the hallway near each sleeping area in your house. Check the batteries every time you check your smoke detector batteries — at least twice a year. If the alarm sounds, leave the house and call 911 or the fire department. Carbon monoxide detectors are also available for motor homes and boats.
• Open the garage door before starting your car. Never leave your car running in your garage. Be particularly cautious if you have an attached garage. Leaving your car running in a space attached to the rest of your house is never safe, even with the garage door open.
• Use gas appliances as recommended. Never use a gas stove or oven to heat your home. Use portable gas camp stoves outdoors only. Use fuel-burning space heaters only when someone is awake to monitor them and doors or windows are open to provide fresh air.
• Don't run a generator in an enclosed space, such as the basement or garage.
Keep your fuel-burning appliances and engines properly vented. These include:
• Space heaters
• Furnaces
• Charcoal grills
• Cooking ranges
• Water heaters
• Fireplaces
• Portable generators
• Wood-burning stoves
• Car and truck engines
http://www.khq.com/story/37509569/carbon-monoxide-poisoning-suspected-in-deaths-of-two-adults-in-grant-county